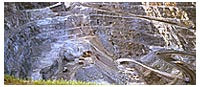 The Homestake Gold Mine Surface Tour & Visitor Center in Lead, SD, is open daily during the summer months of June, July, and August and Monday-Saturday from September to May. The center offers surface tours of the Homestake Gold Mine which run daily. This center also features a short informative film regarding Homestake, historic and educational memorabilia, and a fabulous gift shop. You can also view the Historic Open Cut, the original claim of the Homestake Mining Company back in 1876.
The Black Hills Mining Museum in Lead, is open 9:00am to 5:00pm Tuesday through Saturday. This establishment allows you to take a step back in time and explore the rich and colorful history of Lead and gold mining in the Black Hills. You can view many historical items such as machinery that was used to actually mine the gold in the Homestake Gold Mine and other area mines.
Lead Main Street – You will find many lovely stores that host a variety of items. We have antique stores, & eateries, museums, art galleries, and the Historic Homestake Opera House all on Main Street. Also, take time out to see many of the historic houses or buildings located all around Lead.
Deadwood, SD – A great place to take a step back in time. This town has done a fabulous job on restoring the Historic Main Street. Deadwood is just 3 miles from Lead. While in Deadwood check out the Adams Museum and House, Mt. Moriah where Wild Bill and Calamity Jane are buried.
The Days of '76 Museum features Old West and Native American artifacts and over 60 historic horse-drawn vehicles, including the original Deadwood Stage.
The Adams Museum and House The Adams House, built in 1892, is an elegant Victorian mansion which became the Adams House Museum following a detailed restoration. The Adam House Museum tells the story of two 19th century families, and reveals a cultured lifestyle not commonly associated with the American West.
The George S. Mickelson Trail is a great place for biking, skiing, horseback riding, or walking. This trail is 114 miles long and takes one through the entire Black Hills from Lead to Edgemont SD.
Spearfish Canyon – Designated a National Scenic Byway. It is located on Highway 14A and twists through the 19 mile gorge. Enjoy the cool freshness of Spearfish Creek, Bridal Veil Falls and Roughlock Falls along the canyon. This is a great place to fish, hike, bike, or picnic.
Crazy Horse Memorial & Mt. Rushmore National Monument are only a little over an hour from Lead on south Hwy 385.
Winter Months:
Lead, South Dakota on the average receives over a hundred inches of snow throughout the winter months. This allows the Black Hills to have a fantastic base for skiers and snowmobilers. There is enough snow for everyone!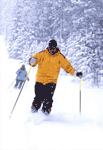 Skiing:
Skiing usually opens up the day after Thanksgiving. We have 2 slopes in the area. Either slope is just minutes from Lead.
Deer Mountain Ski Resort – They offer down hill skiing and cross country. Terry Peak Ski Resort –
Snowmobiling: Snowmobiling opens up December 15th. The trails will be groomed by this date. We have over 300 miles of groomed trails and over 2,000 miles of off trail access. Many of the resorts or listings below offer lodging, restaurants and/or sled rentals.